Legend extreme duathlon
Jul 15, 2022
•  0 likes
•  0 comments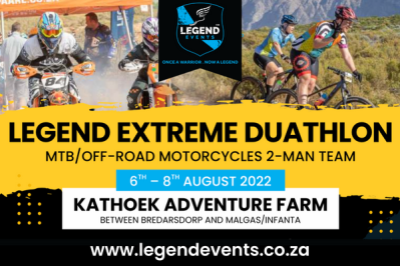 MTB & Off Road Motorbike 2 Man Team
6 - 8 August 2022
Kathoek Adventure Farm (between Bredasdorp & Malgas)
The Legend Extreme Duathlon is a 2 Man Team stage event consisting of 1 MTB rider and 1 Off-Road Motorcycle rider per team, riders complete a set amount of laps each day in their chosen discipline. Riders can also enter SOLO and participate in MTB or Off Road Motorcycle or BOTH.
The event takes place in the Overberg region.
OVERVIEW
The goal of hosting this dual event is to bring MTB and Off-Road Motorcycle riders together, increasing visitation in the Overberg District so that locals can benefit. One strategy focuses on making this area a top-box destination for various sport meeting and event planners by creating greater awareness, attracting interested visitors resulting in increased tourist activity throughout the area.

One of the ways we achieve this is by hosting sporting events which encourage incremental travel to the Overberg region providing the opportunity for travellers to see what the area has to offer (beyond the event). Recent examples of these sport events include the Funduro, held at Kathoek Adventure Farm.
Our aim is to make this event an annual fixture, it is the FIRST of its kind in the world.
OBJECTIVE
Legend Events uses and promotes local businesses to ensure the success of this event, promote the event to potential participants and to create community awareness.